Erzsébet Park Hotel***superior
The three-star Erzsébet Park Hotel in Parádfürdő is located 110 km from Budapest (only a 90 minute drive), in the heart of Hungary's largest healing region, the Mátra mountains.
The hotel was built in 1893 according to the design of a famous Hungarian architect Miklós Ybl. After a complete reconstruction a hundred years later, the hotel was reopened for the guests in February 2002. In the spring of 2008 a new building, called Zsuzsanna-wing was added to the original building of Erzsébet-wing, thus uniting the memories of the past and modern design of the present times.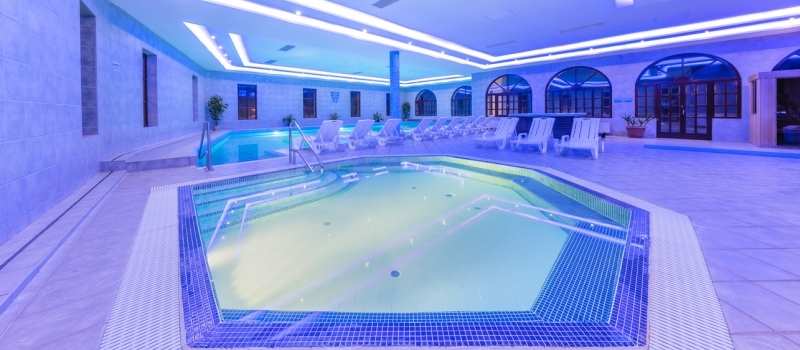 Erzsébet Park Hotel*** with 41 rooms in Erzsébet-wing and 58 rooms in Zsuzsanna-wing, including 37 standard rooms with extra bed and 12 suites for the comfortable accommodation of couples or families with children. All rooms are non-smoking, rooms in Zsuzsanna-wing are air conditioned and equipped with safety deposit box. Wireless Internet access, a mini bar, flat screen TV and telephone can be found in each room. Bathrooms have a shower or bathtub, bathrobes for the adults are complimentary to use during the stay.
The 150-seat Restaurant in Erzsébet-wing serves buffet breakfast and dinner for the hotel guests and offers a tasteful selection of local Palóc and home-made style dishes. The two smaller separated rooms of the restaurant are ideal for family or business lunches. The vaulted Erzsébet Bar awaits the hotel guests as well as all the visitors with a fine cup of coffee and local wines from the famous Mátra and Eger wine region. Zsuzsanna Café is ideally located next to the bowling and billiard club and it also serves the wellness guests of Zsuzsanna-wing.
The wellness area in Erzsébet-wing offers a 14 x 7 m indoor swimming pool, a relax pool, a steam room, a Finnish sauna, an infra sauna and a fitness room. A fun pool, a whirlpool, a Finnish sauna, an aromatic cabin with light therapy, a salt grotto and solarium is also at the guests disposal in the new Zsuzsanna-wing. A 10 x 20 m outdoor pool with relax chairs completes the wellness services during the summer months. Guests can enjoy our refreshing or aroma-therapy massages as well as other refreshing treatments.
The Mátra Mountains has many wonderful opportunities to get outside and enjoy all year-round activities here. There's table tennis, badminton, a neighbouring park for jogging, bicycle rental, hiking paths, Nordic walking sticks and segway, monster-roller, mountain-bike tour offers. Inside the hotel there's a four-lane bowling, two billiard tables and table football for the evening entertainment. An indoor children's play area and also an outdoor playground are waiting for the small ones.
The hotel, surrounded by the forests of Mátra Mountains is an ideal venue for company team buildings. All participants can easily reach the settlement from Budapest and all major towns in Hungary. A wide variety of very exciting team building programs can be held here. Conference facilities include a 200 sqm main conference room on the ground floor of the Zsuzsanna-wing with a capacity of up to 150 guests for conferences as well as three smaller rooms in the Erzsébet-wing for group meetings. The hotel park offers the possibility for outdoor cooking, barbecues or grill parties. .
---